Right now, as you try to find your footing in the time of the Covid19 pandemic, you may consider marketing and sales to be insensitive or distasteful—but it doesn't have to be.
It's vital that you shore up your business—now—before your competitors do a better job of it. This is a justifiable time to protect your client relationships and to position yourself in the market without feeling guilt or shame. To actively do so isn't opportunistic—it's simply good client service and good business.
On the other hand, hoarding 17,000 bottles of hand sanitizer and trying to gouge consumers is shameful and criminal.
Marketing during a crisis is about maintaining and deepening relationships with clients. Yet that effort requires a delicate touch.
The key to delicate touch is just to:
Show that you care
Share knowledge that helps clients work better, faster, and cheaper during the crisis.
To read specific suggestions for how to market your firm, confidently and without shame, click here for the PDF.
Then click here to send me an email and tell me what you thought of it.
Be well and be safe. Jim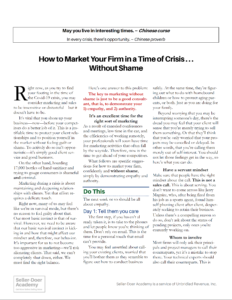 Marketing Professional Services Without Shame During a Crisis (by Jim Rogers) revised